Server Maintenance In Progress, We Will Be Back Soon! In the meanwhile if you would like to place an order via email, please feel free to message us via the website contact form or Whatsapp.
SALE!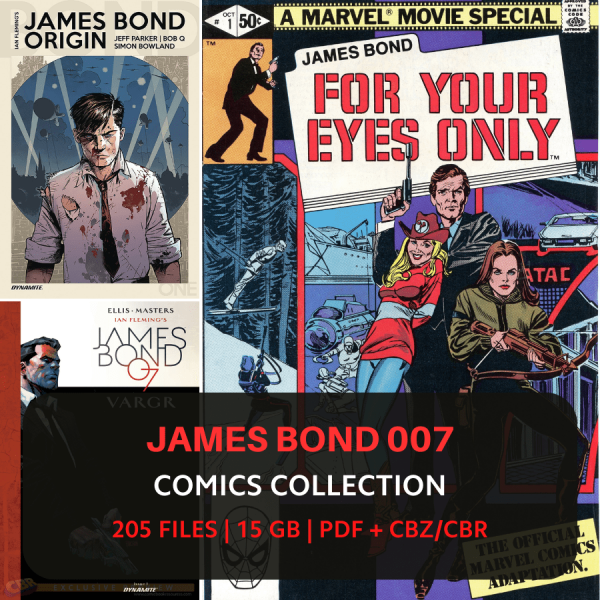 James Bond 007 Comics | Complete Spy Series | Digital Collection | Iconic British Agent Tales | Espionage Thrillers
Description
This Digital Comic Book bundle contains the following files:
This Archive is available in both PDF + CBZ/CBR file format
This bundle contains the following files:
★ James Bond 007 Comics 205 FILES
205 FILES | 15.2 GB | PDF + CBZ/CBR
Please contact us if you have any query, we are always here to assist you. We are available on WhatsApp and email.
Introduction to James Bond Comics:
Delve into the thrilling world of espionage, intrigue, and adventure with our outstanding collection of James Bond Comics. Seamlessly translating the high-stakes world of 007 from the silver screen to the vibrant, dynamic pages of comic books, these meticulously crafted narratives continue to carry forward the legacy of the world's most famous secret agent.
Experience gripping tales of international espionage as James Bond, a man of suave sophistication and deadly skill, outsmarts his enemies with wits and style. Each comic in our collection showcases exhilarating chases, daring missions, exotic locations, and memorable villains that have become synonymous with the Bond brand.
Brought to life through detailed artwork and compelling storytelling, these comics delve deeper into Bond's complex personality and the treacherous world of spycraft. The comics are a testament to the enduring allure of Bond, offering everything from direct adaptations of Ian Fleming's original tales to modern, edgy reinterpretations of the classic 007 lore.
For fans of action-packed narratives, intriguing espionage, or simply those fascinated by the legendary British spy, our James Bond Comics are a must-have addition to your digital library. Explore the world of covert operations, luxury cars, high-tech gadgets, and iconic one-liners with James Bond like never before. Browse our collection today and immerse yourself in the iconic world of James Bond.