Server Maintenance In Progress, We Will Be Back Soon! In the meanwhile if you would like to place an order via email, please feel free to message us via the website contact form or Whatsapp.
SALE!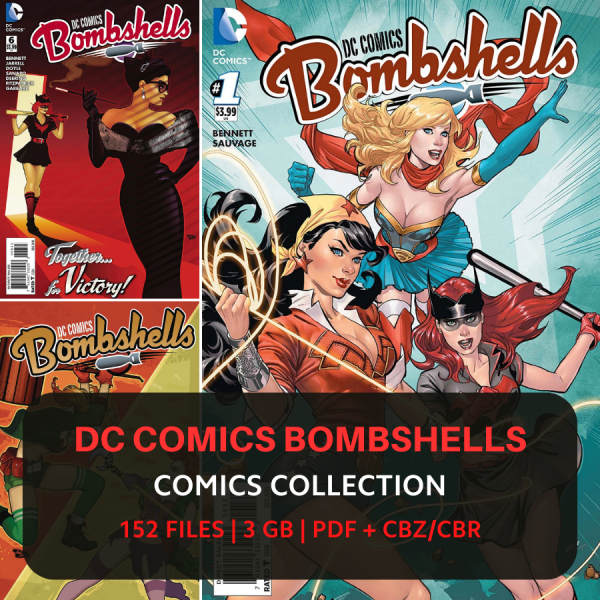 DC Comics Bombshells | Complete Digital Collection | Vintage Superheroines | Iconic Female Heroes | Comic Download
$14.96
Categories: Action Adventure Comics, Superhero Comics
Tags: bombshells series, comic download, complete series, dc bombshells, dc collection, dc heroines, digital comics, digital library, female heroes, iconic comics, superheroines, vintage comics, women in comics
Description
This Digital Comics bundle contains the following files:
★ DC Comics Bombshells 152 Files
152 FILES | 3.85 GB | PDF + CBZ/CBR
Please contact us if you have any query, we are always here to assist you. We are available on WhatsApp and email.
Introduction to the Comic:
DC Comics Bombshells, a captivating comic book series, offers an enthralling reimagining of iconic DC heroines in a fresh, alternate reality. Debuting in 2015, the series was inspired by Ant Lucia's popular artwork, which envisioned classic DC characters in the style of 1940s pin-up art. With Marguerite Bennett as the lead writer and a talented team of artists, including Marguerite Sauvage, Laura Braga, and Mirka Andolfo, Bombshells delivers a captivating narrative that blends the glamour of the era with the power and resilience of its characters.
Set during World War II, the series reinterprets the roles of beloved female characters, such as Wonder Woman, Batwoman, Supergirl, and Harley Quinn, as they battle against the forces of tyranny and oppression. In this alternate timeline, these heroines are at the forefront of the war effort, working as spies, soldiers, and pilots, unearthing their inner strength and fighting for justice and freedom.
DC Comics Bombshells strikes a perfect balance between action-packed storytelling, emotional depth, and striking visual artistry. The series delves into the complex relationships and personal struggles of its diverse cast of characters while addressing themes of courage, loyalty, and empowerment.
A stunning homage to the strength and spirit of women in the face of adversity, DC Comics Bombshells offers readers a unique and inspiring perspective on classic superheroines. It's an enthralling adventure that will leave fans eager for more.