Server Maintenance In Progress, We Will Be Back Soon! In the meanwhile if you would like to place an order via email, please feel free to message us via the website contact form or Whatsapp.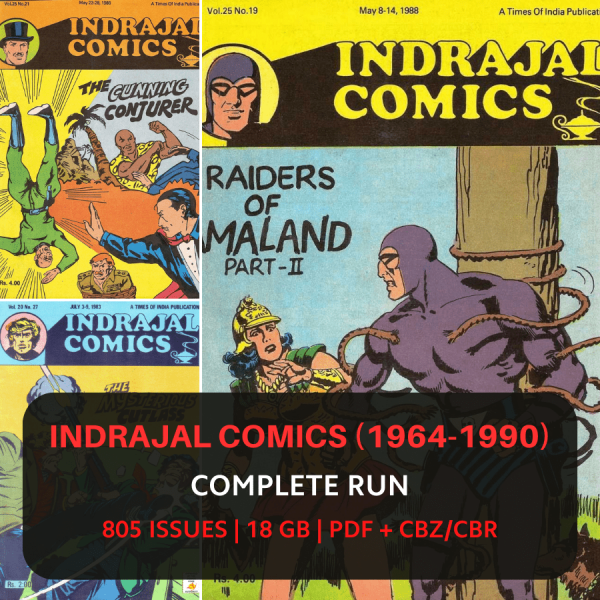 Indrajal Comics Complete Series | Vintage Indian Comic Collection | Digital Edition | Phantom, Mandrake, Bahadur Stories
$19.64
Categories: Action Adventure Comics, Custom Orders, Superhero Comics
Tags: 80s comics, bahadur tales, bengali comics, classic tales, complete collection, hindi comics, iconic stories, indian superheroes, indrajal comics, mandrake magician, phantom series, rare comics, vintage indian comic
Description
This Digital Comics bundle contains the following files:
★ Indrajal Comics Complete Run 805 Issues (1964 – 1990)
805 ISSUES | 18.59 GB
Please contact us if you have any query, we are always here to assist you. We are available on WhatsApp and email.
Introduction to the Indrajal Comics:
Indrajal Comics was a publisher of comic books in India that was active from 1964 to 1990. The company was known for producing comics featuring popular characters such as Phantom, Mandrake the Magician, and Flash Gordon, as well as original content. The comics were published in both English and Hindi and were popular among children and adults alike.
Indrajal Comics was founded by Anand Bhai, who was inspired by the success of foreign comics in India and wanted to create a similar experience for Indian readers. The company quickly gained a following and became one of the most popular comic book publishers in India. The comics were known for their high-quality production values, with colorful artwork and engaging stories.
One of the most popular characters featured in Indrajal Comics was Phantom, a superhero who was created by Lee Falk in 1936. The character had a large following in India and the comics helped to introduce him to a new generation of readers. Mandrake the Magician and Flash Gordon were also popular, and Indrajal Comics helped to popularize these characters in India.
Although Indrajal Comics ceased publication in 1990, its legacy lives on. The comics are still beloved by fans and are considered a cultural touchstone in India. The company's success helped to pave the way for other Indian publishers to create their own comic books, and its impact on the Indian comic book industry cannot be overstated.