Server Maintenance In Progress, We Will Be Back Soon! In the meanwhile if you would like to place an order via email, please feel free to message us via the website contact form or Whatsapp.
SALE!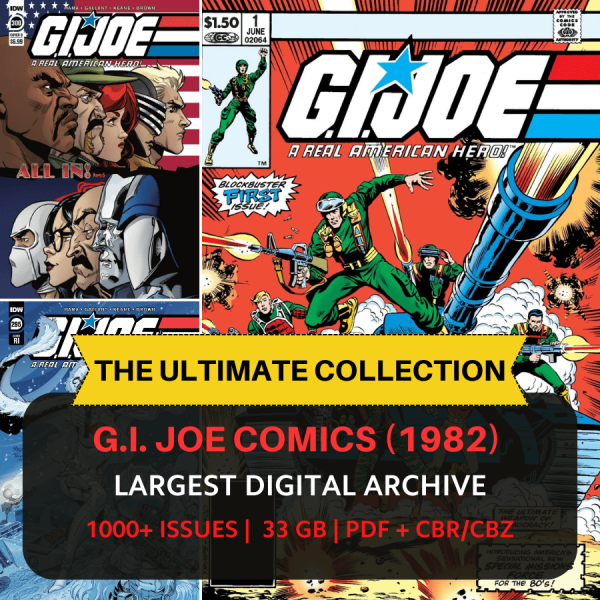 G.I. Joe Comics Ultimate Collection | Classic Action Series | Full Digital Download | Iconic Military Tales
$74.96
Categories: Action Adventure Comics, Military Comics
Tags: 80s comics, action series, adventure comics, classic action, cobra battles, comic collection, digital download, full collection, g.i. joe comics, iconic series, joe team, military comics, military tales
Description
This Digital Comics bundle contains the following files:
This Archive is available in both PDF and CBZ/CBR file format
★ G.I. Joe Comics 1000+ Issues
Largest Available Archive
1000+ ISSUES | 33.8 GB | PDF + CBR/CBZ
Please contact us if you have any query, we are always here to assist you. We are available on WhatsApp and email.
Introduction to the Comics:
"G.I. Joe Comics" is a long-running series of comic books that have captivated audiences since the 1980s. Created by writer Larry Hama and artist Herb Trimpe, the comics were based on the popular toy line produced by Hasbro.
The story follows the G.I. Joe team, a group of elite soldiers tasked with defending the world against the evil organization known as Cobra. Led by General Hawk, the team is made up of a diverse group of individuals with unique skills and backgrounds.
The comic book series is known for its fast-paced action, complex characters, and intricate storylines. The G.I. Joe team engages in a wide range of missions, from rescuing hostages and capturing terrorists to fighting off giant robots and battling Cobra's powerful weapons.
The conflict between G.I. Joe and Cobra is the heart of the series, with the two sides engaging in an ongoing battle for supremacy. Cobra is led by the ruthless Cobra Commander, who is determined to conquer the world and subjugate all who oppose him.
The series is also notable for its use of real-world technology and military tactics. Hama, a veteran of the Vietnam War, brought his experience and expertise to the series, creating a sense of authenticity that resonated with readers.
The characters in "G.I. Joe Comics" are complex and multifaceted, with their own backstories and motivations. Some of the most iconic characters include Duke, a skilled leader and strategist; Snake Eyes, a silent ninja with a tragic past; and Scarlett, a fierce warrior with a sharp wit.
The artwork in "G.I. Joe Comics" is top-notch, with Trimpe and other talented artists bringing the action-packed story to life. The series has also spawned several spin-off titles, including "G.I. Joe: A Real American Hero" and "G.I. Joe: Special Missions."
Over the years, "G.I. Joe Comics" has remained popular with readers of all ages. The series has spawned numerous adaptations, including animated TV shows and blockbuster movies. It has also inspired a dedicated fan base, with collectors and enthusiasts eagerly seeking out rare issues and memorabilia.
In conclusion, "G.I. Joe Comics" is a thrilling and action-packed series that has stood the test of time. With its compelling characters, intricate storylines, and realistic military tactics, it continues to captivate readers and inspire new generations of fans. Whether you're a longtime fan or a newcomer to the world of G.I. Joe, the comics are a must-read for anyone who loves exciting and engaging storytelling.