Server Maintenance In Progress, We Will Be Back Soon! In the meanwhile if you would like to place an order via email, please feel free to message us via the website contact form or Whatsapp.
SALE!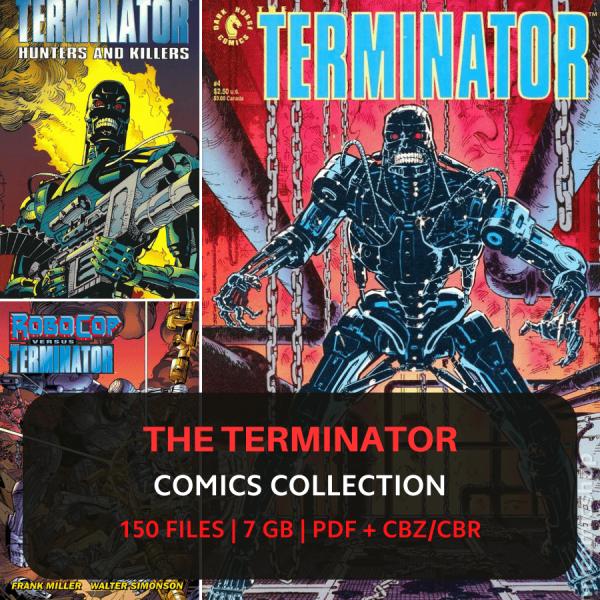 The Terminator Comics Collection | Sci-Fi Cyberpunk Action | Classic Skynet Saga | Digital Download Series
$24.96
Categories: Action Adventure Comics, Custom Orders, Science Fiction Comics
Tags: 80s classic, action-packed, comic collection, cyberpunk tales, digital download, dystopian future, iconic series, john connor, robots rebellion, skynet saga, terminator comics, terminator lore, time travel
Description
This Digital Comics bundle contains the following files:
This Archive is available in both PDF + CBZ/CBR file format
This bundle contains the following files:
★ The Terminator Comics 150 FILES
150 FILES | 7.31 GB | PDF + CBZ/CBR
Please contact us if you have any query, we are always here to assist you. We are available on WhatsApp and email.
Introduction to the Comic:
Unleash the raw energy and thrill of the post-apocalyptic universe with our collection of Terminator Comics. Diving straight into the heart of the age-old battle between man and machine, these exceptional comics continue to expand the captivating saga that has been a cornerstone of science fiction for decades.
Immerse yourself in this dystopian world, brought to life through stunning artwork, gripping narratives, and heart-stopping plot twists. Witness the evolution of humanity's survival against Skynet's relentless cyborg assassins, from the iconic T-800 to the shapeshifting T-1000. From the mind-bending time travel paradoxes to the profound humanistic themes of fate versus free will, these comics delve deeper into the epic Terminator mythology.
Whether you're a die-hard fan of the Terminator series or a newcomer intrigued by the merging of man and technology, these comics are a perfect addition to your digital library. Providing a unique lens into the saga, our Terminator Comics collection holds the promise of limitless exploration and excitement. Brace yourself for a riveting ride through a world where the future of humanity is etched in lines of ink and color. Discover your next favorite comic in our Terminator series today.