Server Maintenance In Progress, We Will Be Back Soon! In the meanwhile if you would like to place an order via email, please feel free to message us via the website contact form or Whatsapp.
SALE!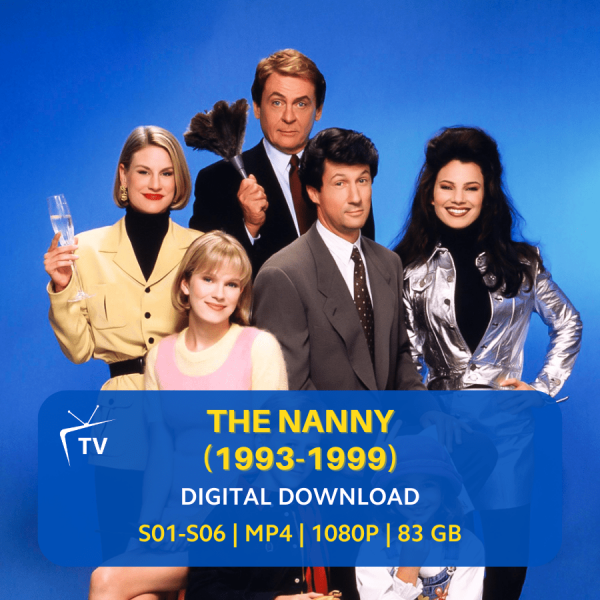 The Nanny 1993 Digital Download | Fran Drescher Classic | 90s TV Show | Comedy Sitcom | Iconic Television Series | Nostalgic TV Hits
$24.96
Category: Retro TV Shows
Tags: 1993 tv nostalgia, 90s sitcom download, classic television, comedy series, digital tv hit, fran drescher show, fran fine series, iconic 90s tv, new york sitcom, sheffield family, the nanny 1993, tv show download, vintage comedy
Description
Series Information:
• Broadcast years: 1993-1999
• Number of seasons: 6
• Number of episodes: 146
• File Quality: 1080p
• Download Size: 83.3 GB
• File format: MP4
Dive into the laughter-filled adventures of the unmistakable Fran Fine with "The Nanny" digital download. This iconic 90s TV series, headlined by the inimitable Fran Drescher, redefined comedy with its unique blend of wit, charm, and hilarious situations.
Set in the upscale enclaves of New York City, "The Nanny" tells the story of the vivacious Fran, a cosmetics saleswoman from Queens, who inadvertently lands a job as the nanny to the three children of wealthy Broadway producer, Maxwell Sheffield. Fran's quirky personality, contrasted with the stiff upper lip of the Sheffield household, results in a series of comic misunderstandings and heartwarming moments.
Every episode is a trip down memory lane, reminding us of the fashion, humor, and spirit of the 90s. The quality of the digital download ensures a visual and auditory treat, immersing you in the hilarious escapades of Fran and the Sheffield family.
Whether you're a longtime fan wishing to reminisce or a new viewer eager to experience the magic of this classic, "The Nanny" promises hours of joy, laughter, and unmatched entertainment. Grab your copy and let the iconic voice of Miss Fine echo in your living room once again!