Server Maintenance In Progress, We Will Be Back Soon! In the meanwhile if you would like to place an order via email, please feel free to message us via the website contact form or Whatsapp.
SALE!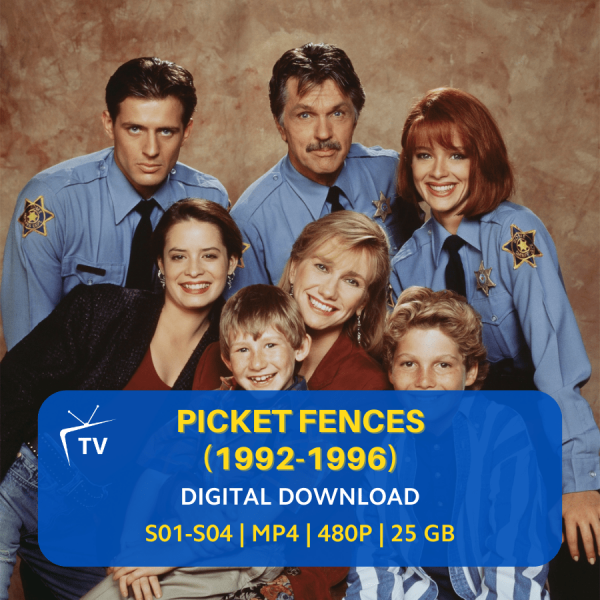 Picket Fences 1992 | Emmy-Award Winning TV Drama | Complete Series | Digital Download
$24.96
Category: Retro TV Shows
Tags: 1992 television hit, 90s nostalgia, 90s tv drama, classic tv show, crime drama series, david e kelley, emmy award series, family dynamics, iconic tv series, picket fences show, romano family, small-town drama, vintage tv download
Description
TV Series Information:
• Broadcast years: (1992-1996)
• Number of seasons: 4
• Number of episodes: 89
• File Quality: 480p
• Download Size: 25.8 GB
• File format: MP4
Introducing 'Picket Fences' from 1992 – a compelling tapestry of small-town life, interwoven with eccentricities, mysteries, and heartfelt drama. Renowned for its thought-provoking themes and a cast that brought the town of Rome, Wisconsin to life, this series created by David E. Kelley was an undeniable hit of the 90s.
Immerse yourself in the lives of the Brock family, the local sheriff, and the myriad of peculiar yet endearing residents of Rome. From baffling court cases to family dilemmas, 'Picket Fences' captivates with a blend of humor, emotion, and a dash of the surreal.
Whether you're revisiting the series or discovering it for the first time, 'Picket Fences' offers a captivating escape that resonates as much today as it did during its original broadcast. Download the series now and get lost in the quirky charm of one of TV's most unforgettable towns.