Server Maintenance In Progress, We Will Be Back Soon! In the meanwhile if you would like to place an order via email, please feel free to message us via the website contact form or Whatsapp.
SALE!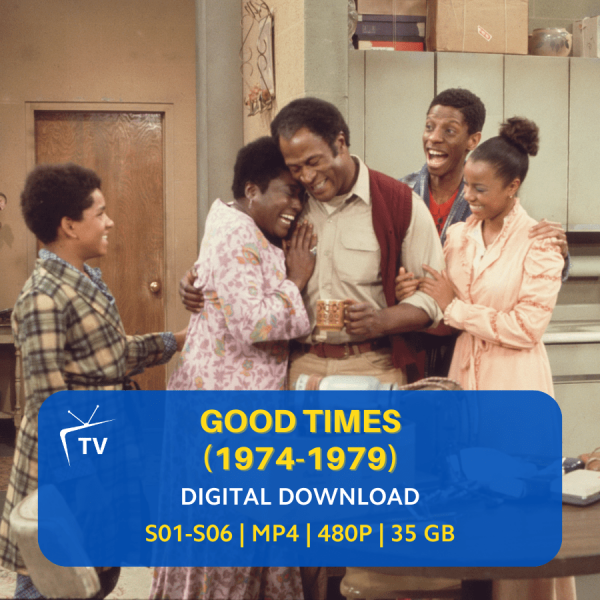 Good Times 1974 | Complete TV Series Digital Download | Classic 70s Sitcom | Dyn-o-mite! Collection | Retro Television
$24.96
Category: Retro TV Shows
Tags: 1970s television, chicago sitcom, classic 70s sitcom, complete series, digital collection, dyn-o-mite, esther rolle, evans family, good times 1974, iconic tv, jj evans, retro tv download, vintage show
Description
TV Series Information:
• Broadcast years: 1974-1979
• Number of seasons: 6
• Number of episodes: 133
• File Quality: 480p
• Download Size: 35 GB
• File format: MP4
Journey back to the golden era of television with 'Good Times' – a legendary sitcom that captivated the heart of America during the 70s. Set against the backdrop of a housing project in Chicago, this digital download takes you through the trials, tribulations, and triumphs of the lovable Evans family.
Relive the vibrant characters and compelling storylines that made 'Good Times' a household name. From JJ's iconic "Dyn-o-mite!" to the resilient spirit of Florida Evans (Esther Rolle), every episode in this collection beams with authentic 70s charm and wit.
Perfect for fans who want to bask in nostalgia or introduce the next generation to a true television classic, this digital collection ensures a top-tier viewing experience. Experience the best of retro television with the 'Good Times' series – a representation of family, laughter, and the enduring spirit of togetherness. Secure your digital copy today and let the good times roll!