Server Maintenance In Progress, We Will Be Back Soon! In the meanwhile if you would like to place an order via email, please feel free to message us via the website contact form or Whatsapp.
SALE!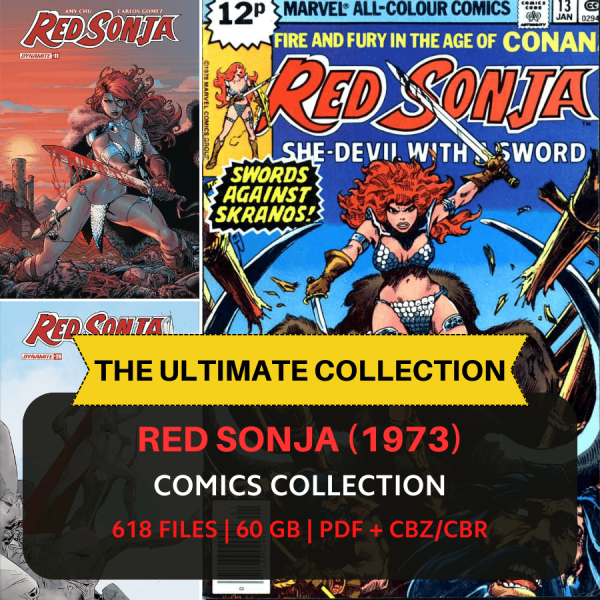 Red Sonja Complete Comics Collection | Sword & Sorcery Series | Vintage to Modern Tales | Digital Download Edition
$49.60
Categories: Action Adventure Comics, Fantasy Comics
Tags: barbarian stories, classic comics, comic collection, complete collection, digital download, fantasy comics, iconic series, red sonja comics, red sonja series, she-devil sword, sword sorcery, vintage comics, warrior tales
Description
This Digital Comics bundle contains the following files:
This Archive is available in both PDF + CBZ/CBR file format
This bundle contains the following files:
★ Red Sonja Comic Books + More Collection 618 FILES
618 FILES | 60.5 GB | PDF + CBZ/CBR
Please contact us if you have any query, we are always here to assist you. We are available on WhatsApp and email.
Introduction to the Comic:
Embark on a breathtaking journey into the realms of fantasy and adventure with our extensive collection of Red Sonja Comics. Known as the "She-Devil with a Sword", Red Sonja's fearless persona and indomitable spirit have made her one of the most iconic figures in the world of comic books.
Transcend into the Hyborian Age, where our fiery-haired heroine carves her destiny with unflinching courage and unparalleled swordsmanship. The crisp narratives and exquisite artwork that grace these pages bring to life Red Sonja's numerous escapades, capturing everything from epic battles against sorcerers and beasts to introspective moments in a ruthless world.
Each comic in our digital collection tells a unique story of resilience and power, highlighting the fascinating balance of femininity and ferocity that defines Red Sonja. Explore the uncharted territories of a time-lost era where bravery, wit, and the might of a sword are the only defenses against formidable foes.
Whether you're an ardent fan of fantasy, a seasoned comic collector, or someone seeking their first exciting foray into the comic book world, Red Sonja Comics are an excellent addition to your digital collection. Embrace the thrill of relentless action and join the warrior woman in her never-ending quest for justice. Browse our Red Sonja collection today and let your adventure begin.