Server Maintenance In Progress, We Will Be Back Soon! In the meanwhile if you would like to place an order via email, please feel free to message us via the website contact form or Whatsapp.
SALE!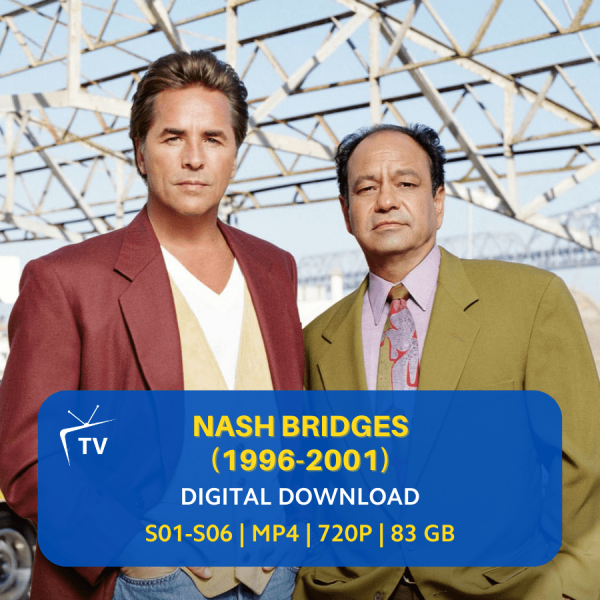 Nash Bridges 1996 | Classic 90s TV Show | Digital Download | Don Johnson | San Francisco Detective | Crime Drama | Vintage Television
$29.64
Category: Retro TV Shows
Tags: 90s nostalgia, 90s tv drama, action series, cheech marin, crime detective, digital download, don johnson, iconic tv show, nash bridges 1996, police drama, san francisco show, us cop series, vintage television
Description
TV Series Information:
• Broadcast years: 1996-2001
• Number of seasons: 6
• Number of episodes: 122
• File Quality: 720p
• Download Size: 83.6 GB
• File format: MP4
Step back into the vibrant landscape of 1990s television with 'Nash Bridges', the quintessential crime drama that set hearts racing and had everyone talking. Starring the charismatic Don Johnson in a role that further solidified his place as a TV icon, this series offers a unique blend of action, humor, and emotional depth.
Based in the picturesque locale of San Francisco, 'Nash Bridges' dives deep into the life of a witty, street-smart detective, unveiling both the perils of his professional world and the complexities of his personal life. Alongside his loyal partner, played by the incomparable Cheech Marin, Nash confronts a myriad of criminals, each episode bringing a new challenge, a new mystery, and thrilling chases.
Now available as a high-definition digital download, you can relive the excitement, drama, and humor of 'Nash Bridges' from the comfort of your home. Whether you're reminiscing about the 90s or discovering this gem for the first time, this collection promises hours of quality entertainment.