Server Maintenance In Progress, We Will Be Back Soon! In the meanwhile if you would like to place an order via email, please feel free to message us via the website contact form or Whatsapp.
SALE!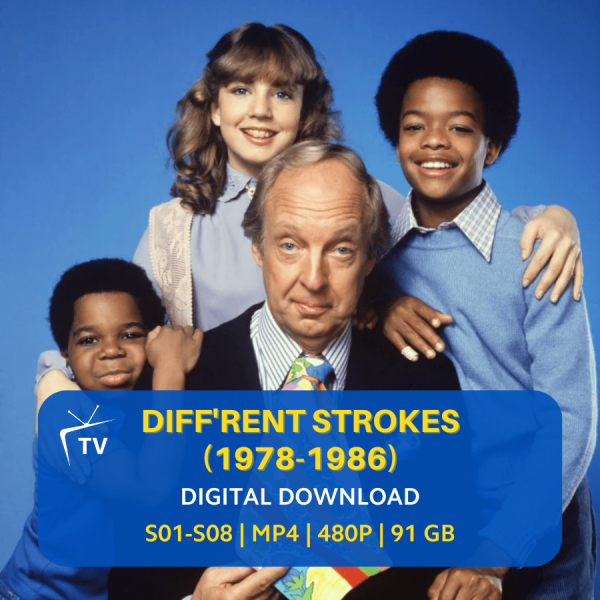 Diff'rent Strokes 1978 Digital Download | Iconic 70s Sitcom | Classic TV Show | Vintage Television Series | Gary Coleman Memories
$29.64
Category: Retro TV Shows
Tags: 1978 tv nostalgia, 70s sitcom download, classic 70s show, diff'rent strokes 1978, digital download series, drummond family tv, family tv comedy, gary coleman tv, iconic 70s sitcom, new york sitcom, retro tv series, vintage television, watch old shows
Description
Series Information:
• Broadcast years: 1978-1986
• Number of seasons: 8
• Number of episodes: 189
• File Quality: 480p
• Download Size: 91 GB
• File format: MP4
Journey back to the bustling streets of New York in the 1970s with the unforgettable TV series, "Diff'rent Strokes". With this premium digital download, you can experience all the laughter, life lessons, and iconic moments that this legendary sitcom brought to living rooms around the world.
Set against the backdrop of the Big Apple, "Diff'rent Strokes" narrates the tale of two brothers from Harlem adopted by a wealthy Manhattanite. The show is synonymous with Gary Coleman's ever-charming portrayal of Arnold and his iconic catchphrase that became a cultural phenomenon. The delightful interplay between the characters, combined with the underlying message of unity and family, made this series a standout of its time.
With every episode, you'll be transported to an era where TV shows were not just about entertainment but also about connecting and understanding diverse perspectives. Whether you're reliving the golden days of television or discovering "Diff'rent Strokes" for the first time, this collection promises sharp visuals, crisp audio, and pure nostalgia. Embrace the charm and wit of this classic, and let the heartwarming memories of Drummond family adventures keep you entertained for hours.