Server Maintenance In Progress, We Will Be Back Soon! In the meanwhile if you would like to place an order via email, please feel free to message us via the website contact form or Whatsapp.
SALE!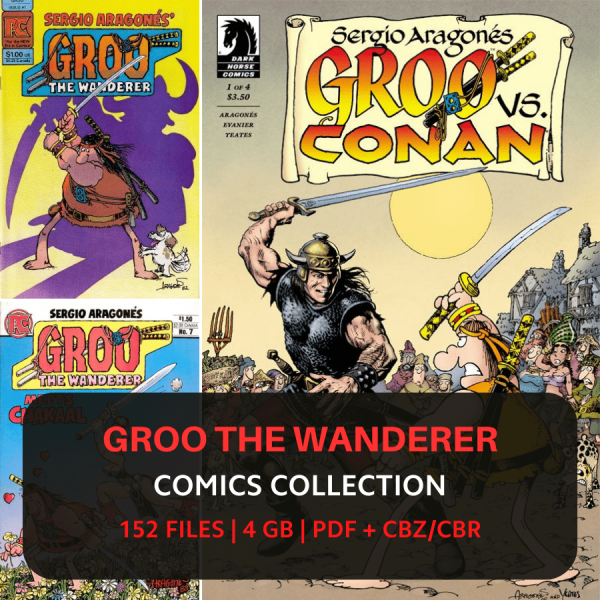 Groo the Wanderer Complete Collection | Classic Comic Series | Digital Edition | Epic Adventures of Groo
$24.96
Categories: Custom Orders, Fantasy Comics
Tags: 80s comics, classic series, comic download, digital comic, epic adventures, fantasy comic, full series, groo collection, groo the wanderer, humorous tales, iconic comics, sergio aragonés, warrior adventures
Description
This Digital Comics bundle contains the following files:
★ Groo the Wanderer (1982-) 152 Files
152 FILES | 4.70 GB | PDF + CBZ/CBR
Please contact us if you have any query, we are always here to assist you. We are available on WhatsApp and email.
Introduction to the Comic:
Groo the Wanderer is a comic book series created by Sergio Aragonés and Mark Evanier. The series follows the adventures of Groo, a wandering barbarian who is well-meaning but often causes chaos and destruction wherever he goes. The stories are set in a fantasy world with a mix of medieval and modern elements, and are known for their humor, satire, and parody of popular culture.
Groo first appeared in 1982 in the pages of Destroyer Duck, a comic book created to raise funds for creator-owned comics. The character proved to be popular, and Groo was soon given his own series by Pacific Comics. The series was later published by Epic Comics and then Dark Horse Comics, and has also been adapted into an animated TV series and a role-playing game.
The art in Groo is distinctive and highly stylized, with detailed linework and expressive characters. Sergio Aragonés is known for his "marginals," small cartoons that appear in the margins of various publications, and his style is evident in the art of Groo.
The stories in Groo often involve Groo stumbling into a situation and inadvertently causing chaos, with humorous and often absurd consequences. Despite his clumsiness, Groo is also portrayed as a skilled fighter and is sometimes called upon to help defend the innocent against various villains.
Overall, Groo the Wanderer is a fun and entertaining comic book series that has gained a dedicated following over the years. Its blend of fantasy, humor, and satire make it a unique and enjoyable reading experience, and its art and characters have become iconic in the world of comics.