Server Maintenance In Progress, We Will Be Back Soon! In the meanwhile if you would like to place an order via email, please feel free to message us via the website contact form or Whatsapp.
SALE!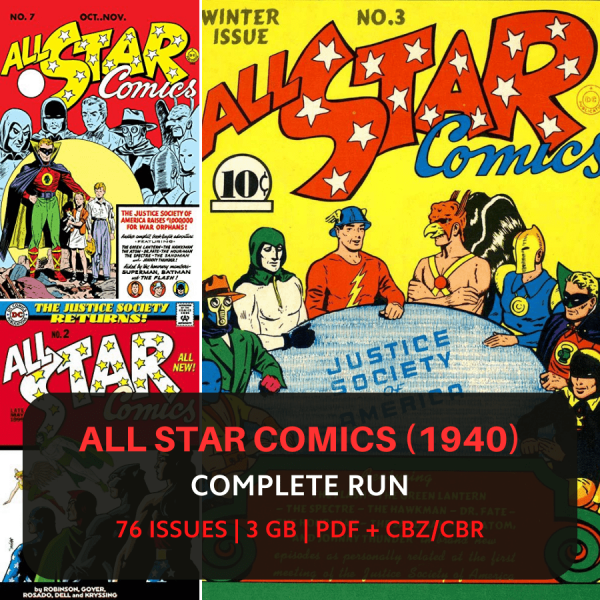 All Star Comics Complete Run | Classic Superhero Series | Vintage Comic Collection | Digital Download | Iconic Graphic Novels | Retro Comics Archive
$9.99
Category: Superhero Comics
Tags: 20th century comics, all star comics, classic comics, collector's item, complete run, digital comic books, digital download, full comic archive, golden age comics, iconic comics, retro graphic novels, superhero series, vintage comics
Description
This Digital Comics bundle contains the following files:
★ All Star Comics 76 Issues
76 ISSUES | 3.54 GB
Please contact us if you have any query, we are always here to assist you. We are available on WhatsApp and email.
Introduction to the Comics:
All Star Comics is a comic book series that originally debuted in 1940, published by All-American Publications, which later merged with two other companies to become the modern-day DC Comics. The series was notable for featuring the very first team of superheroes, the Justice Society of America (JSA), as its main protagonists.
The JSA was composed of some of the most iconic characters in the DC Comics universe, including the Flash, Green Lantern, Hawkman, and the original Sandman. The team was initially formed as a way for DC Comics to showcase their most popular characters in one series, and it proved to be a huge success.
The stories in All Star Comics were set during World War II and often featured the JSA battling Nazis and other Axis powers. The series was also known for its high-quality artwork and writing, with contributions from some of the biggest names in the industry, including Bill Finger, Gardner Fox, and Sheldon Mayer.
In issue #8, All Star Comics introduced a new character who would become one of the most iconic superheroes of all time: Wonder Woman. Created by William Moulton Marston, Wonder Woman was a groundbreaking character for her time, as she was one of the first female superheroes and served as a powerful symbol of female empowerment.
All Star Comics was published through issue #57 in 1951, after which the series was cancelled. However, the JSA and its members would go on to make appearances in other DC Comics series over the years, and the team was eventually revived in the 1960s with a new lineup of characters.
Today, All Star Comics is considered a classic series that played a pivotal role in the development of the superhero genre. The JSA and its members continue to be popular among comic book fans and have appeared in various adaptations in other media, including television shows and films.