Server Maintenance In Progress, We Will Be Back Soon! In the meanwhile if you would like to place an order via email, please feel free to message us via the website contact form or Whatsapp.
SALE!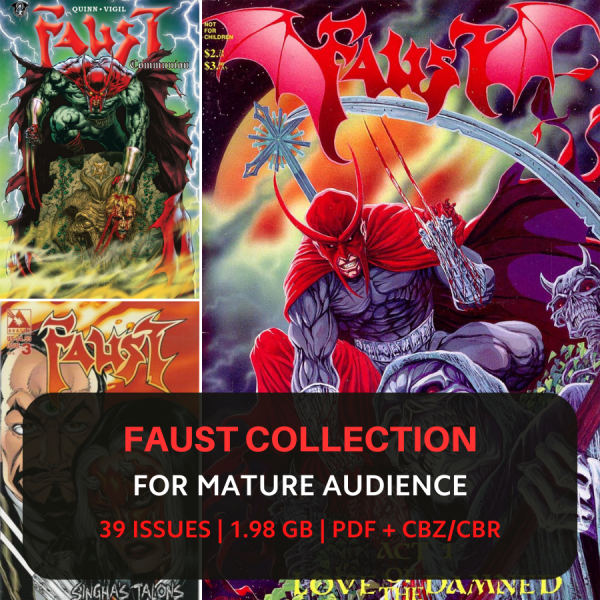 Faust Comics Collection | Cult Classic Series | Digital Download | Dark Fantasy & Horror Tales
$14.96
Categories: Adult Comics, Custom Orders, Horror Comics
Tags: 90s comic series, adult comics, cult classic, dark fantasy, digital collection, digital download, faust comics, faust love, graphic novel, horror comics, iconic series, rebel edition, underground comics
Description
This Digital Comics bundle contains the following files:
★ Faust Comic Collection 39 Issues [Bundle Recommended by Michael]
39 ISSUES | 1.98 GB
Please contact us if you have any query, we are always here to assist you. We are available on WhatsApp and email.
Introduction to the Comic:
"Faust Comics" is a graphic novel series that explores the Faustian myth, a tale of a scholar who makes a pact with the devil. Created by Tim Vigil and David Quinn, the comics present a dark and gritty world that delves into the darker side of human nature.
The first issue of "Faust" was released in 1987 and quickly gained a cult following. The series was known for its visceral violence, intense sexual content, and vivid depictions of the occult. The character of Faust, a man who makes a deal with the devil to gain supernatural powers and seek revenge, became an iconic figure in the comic book world.
The story follows John Jaspers, a tortured artist who is haunted by his past and struggling to find meaning in his life. He is approached by M, a mysterious woman who offers him a deal with the devil in exchange for his soul. Jaspers accepts the offer and becomes Faust, a powerful being with incredible strength and agility.
Throughout the series, Faust battles against a range of supernatural enemies, including demons, vampires, and other monsters. He also faces off against corrupt politicians, gangsters, and other human villains who are just as evil as the creatures he fights.
But the true conflict in "Faust" is internal. Jaspers/Faust is torn between his desire for vengeance and his love for Claire, a woman who represents the purity and innocence that he has lost. As the series progresses, Jaspers/Faust must confront his own inner demons and come to terms with the consequences of his actions.
The artwork in "Faust" is stunning, with Vigil's detailed and dynamic illustrations bringing the violent and erotic world of the comic to life. The series was also notable for its use of experimental layouts and storytelling techniques, making it a groundbreaking work in the field of graphic novels.
Despite its controversial subject matter, "Faust" gained critical acclaim and won several awards, including an Eisner Award in 1992 for Best Graphic Album: New. The series has been translated into multiple languages and has been reprinted several times, attesting to its enduring popularity.
In conclusion, "Faust Comics" is a compelling and intense graphic novel series that explores the themes of good and evil, power and corruption, and the human condition. It is a must-read for fans of horror, dark fantasy, and graphic novels, and continues to captivate readers to this day.