Server Maintenance In Progress, We Will Be Back Soon! In the meanwhile if you would like to place an order via email, please feel free to message us via the website contact form or Whatsapp.
SALE!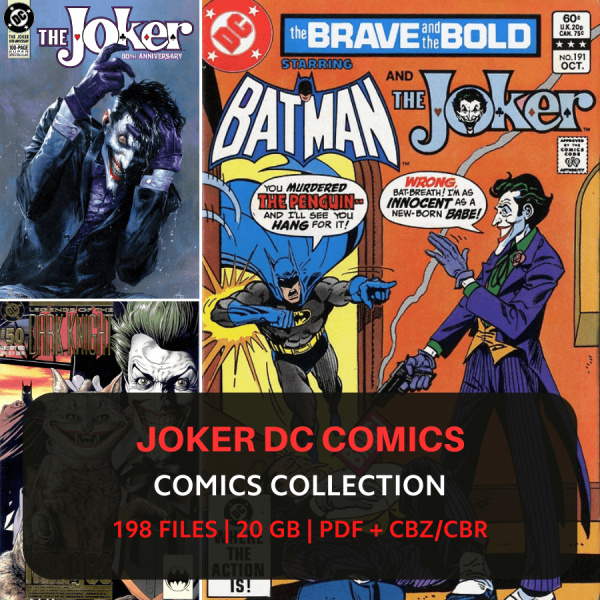 Joker DC Comics Anthology | Full Collection | Digital Download | Batman's Nemesis Tales | Iconic Villain Stories
$14.96
Categories: Custom Orders, Supervillain Comics
Tags: batman nemesis, classic joker comics, clown prince crime, dark knight rival, dc anthology, dc universe, dc villains, digital comic book, gotham villain, iconic joker tales, joker collector item, joker comics, joker stories
Description
This Digital Comics bundle contains the following files:
★ Joker Comic Collection 198 Files [Bundle Recommended by Todd]
198 FILES | 20.4 GB
Please contact us if you have any query, we are always here to assist you. We are available on WhatsApp and email.
Introduction to the Comic:
The Joker is one of the most iconic and enduring villains in the DC Universe. First appearing in Batman #1 in 1940, the Joker has been a consistent thorn in Batman's side for over 80 years. He is known for his clown-like appearance, maniacal laugh, and twisted sense of humor.
The Joker's origin story has been retold numerous times in the comics, but one of the most well-known versions is from "The Killing Joke" by Alan Moore and Brian Bolland. In this version, the Joker is a failed comedian who turns to a life of crime after a series of tragic events push him over the edge.
What sets the Joker apart from other villains is his unpredictability and his lack of a clear motive. He is often portrayed as a chaotic force of nature who simply wants to cause chaos and destruction. This makes him a formidable opponent for Batman, who is known for his sense of justice and order.
Over the years, the Joker has had numerous memorable storylines in the comics, such as "Death in the Family," where he kills Robin, and "The Dark Knight Returns," where he nearly drives Gotham City to the brink of destruction. He has also been adapted into various other media, such as film, television, and video games.
Despite being a villain, the Joker has become a beloved character in pop culture due to his larger-than-life personality and his impact on the Batman mythos. His presence in the DC Universe is a constant reminder that even in a world of superheroes, there is always a place for the villain.