Server Maintenance In Progress, We Will Be Back Soon! In the meanwhile if you would like to place an order via email, please feel free to message us via the website contact form or Whatsapp.
SALE!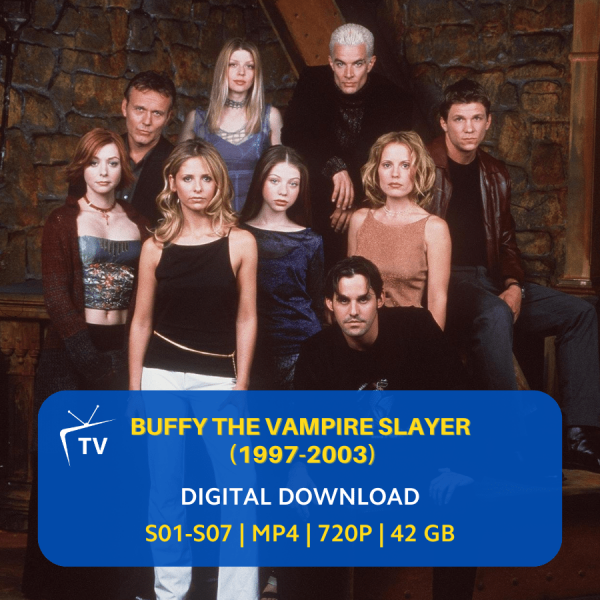 Buffy the Vampire Slayer 1997 | Complete TV Series Digital Download | Classic Supernatural Drama | Slayer Collection | 90s Iconic TV Show
$29.64
Category: Retro TV Shows
Tags: 90s tv series, buffy 1997 download, buffy collection, complete buffy, cult classic, iconic show, joss whedon, sarah michelle gellar, sunnydale high, supernatural drama, teen drama, vampire slayer tv, vampire tv show
Description
TV Series Information:
• Broadcast years: 1990-2000
• Number of seasons: 7
• Number of episodes: 144
• File Quality: 720p
• Download Size: 42.8 GB
• File format: MP4
Step into the supernatural world of Sunnydale with our comprehensive digital download of 'Buffy the Vampire Slayer' from 1997. This groundbreaking TV series, renowned for its compelling mix of teen drama and otherworldly elements, has remained an emblematic part of 90s culture.
Follow Buffy Summers, portrayed by the unforgettable Sarah Michelle Gellar, as she battles against vampires, demons, and the everyday challenges of high school life. With Joss Whedon's brilliant storytelling at the helm, each episode ensures a blend of wit, suspense, and heart.
Whether you're revisiting the world of Buffy or discovering it for the first time, this collection offers premium quality episodes for a binge-worthy experience. Immerse yourself in the adventures of the chosen one and her band of allies as they fight to protect Sunnydale from the forces of darkness. Secure your digital copy today and join Buffy on her iconic journey as the Vampire Slayer.