Server Maintenance In Progress, We Will Be Back Soon! In the meanwhile if you would like to place an order via email, please feel free to message us via the website contact form or Whatsapp.
SALE!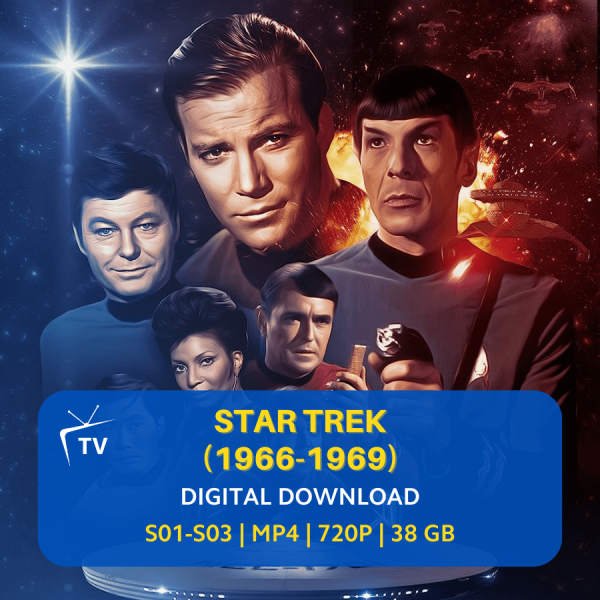 Star Trek: Original Series 1966 | Classic Sci-Fi TV | Captain Kirk & Spock | Complete Series Digital Download
$19.64
Category: Retro TV Shows
Tags: 60s television, captain kirk, classic star trek, federation tales, iconic space drama, original series, retro tv series, space exploration, spock adventures, star trek 1966, trekker collection, uss enterprise, vintage sci-fi tv
Description
TV Series Information:
• Broadcast years: (1966-1969)
• Number of seasons: 3
• Number of episodes: 79
• File Quality: 720p
• Download Size: 38 GB
• File format: MP4
Journey into the final frontier with 'Star Trek: The Original Series', the groundbreaking science fiction TV series from 1966 that redefined the genre. Commanded by the charismatic Captain James T. Kirk and his astute half-Vulcan officer, Spock, the USS Enterprise embarks on a voyage to explore strange new worlds, seek out new life, and boldly go where no man has gone before.
Each episode promises a blend of thrilling adventures, moral dilemmas, and a vision of a future where humanity has reached the stars but is still striving to understand itself. From encountering alien species to grappling with internal struggles, 'Star Trek: The Original Series' is a masterclass in storytelling that is as relevant today as it was over half a century ago.
Relive the adventures of the starship Enterprise and its crew, and immerse yourself in a universe where the possibilities are endless. Download the complete series now and be part of this timeless interstellar journey.