Server Maintenance In Progress, We Will Be Back Soon! In the meanwhile if you would like to place an order via email, please feel free to message us via the website contact form or Whatsapp.
SALE!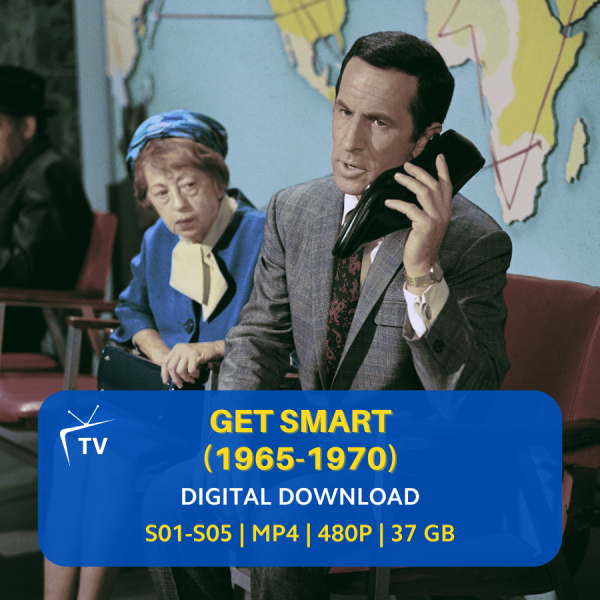 Get Smart 1965 | Classic Spy Comedy | Full TV Series | Digital Download | Iconic 60s Television Show
$29.64
Category: Retro TV Shows
Tags: 1960s series, 1965 tv series, agent 86, classic spy comedy, digital tv series, don adams show, get smart download, get smart episodes, iconic 60s show, maxwell smart, nostalgic tv show, secret agent comedy, vintage television
Description
TV Series Information:
• Broadcast years: 1965-1970
• Number of seasons: 5
• Number of episodes: 138
• File Quality: 480p
• Download Size: 37.5 GB
• File format: MP4
Jump back into the world of espionage and comedy with 'Get Smart', the iconic 1965 TV series that combined humor with the thrill of spy adventures. Starring the unforgettable Don Adams as Agent 86, Maxwell Smart, this show delivered laughs episode after episode while parodying the secret agent genre. With its quirky gadgets, memorable catchphrases, and the inimitable chemistry of its cast, 'Get Smart' became a staple of 1960s television. Now, you can enjoy every clever quip, botched mission, and hilarious moment with this digital download. It's perfect for fans looking to relive the series or for new viewers eager to experience a true television classic. Add 'Get Smart' to your digital collection and let the laughter mission commence!