Server Maintenance In Progress, We Will Be Back Soon! In the meanwhile if you would like to place an order via email, please feel free to message us via the website contact form or Whatsapp.
SALE!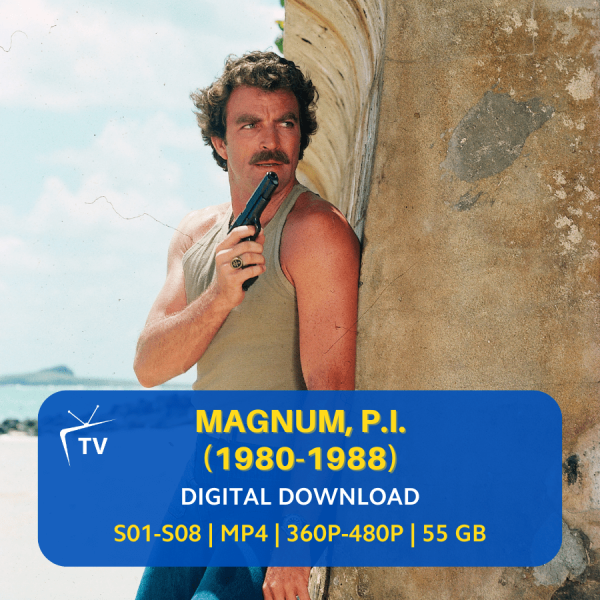 Magnum, P.I. 1980 Digital Download | Classic Tom Selleck Show | Iconic 80s Detective Series | Hawaii Crime Drama | Vintage TV Gem
$9.99
Category: Retro TV Shows
Tags: 1980s nostalgia tv, 80s detective series, classic tv show, digital tv download, ferrari 308 gts, hawaii crime drama, higgins and magnum, iconic 80s tv, magnum pi 1980, private investigator, tc and rick, tom selleck show, vintage crime show
Description
Series Information:
• Broadcast years: 1980-1988
• Number of seasons: 8
• Number of episodes: 162
• File Quality: 360p-480p
• Download Size: 55 GB
• File format: MP4
Dive back into the 1980s with the legendary detective drama, Magnum, P.I. Relive the iconic moments, thrilling adventures, and magnetic charm of Tom Selleck as the titular character. Set against the beautiful backdrop of Hawaii, this series captivated audiences with its unique blend of action, humor, and heart. Whether you're revisiting the series or discovering it for the first time, this digital download ensures you have every episode at your fingertips. Perfect for those nostalgic nights or to introduce a new generation to a timeless classic. Don't miss the opportunity to add this gem to your digital collection and enjoy the intrigue and excitement of Magnum, P.I. all over again.