Server Maintenance In Progress, We Will Be Back Soon! In the meanwhile if you would like to place an order via email, please feel free to message us via the website contact form or Whatsapp.
SALE!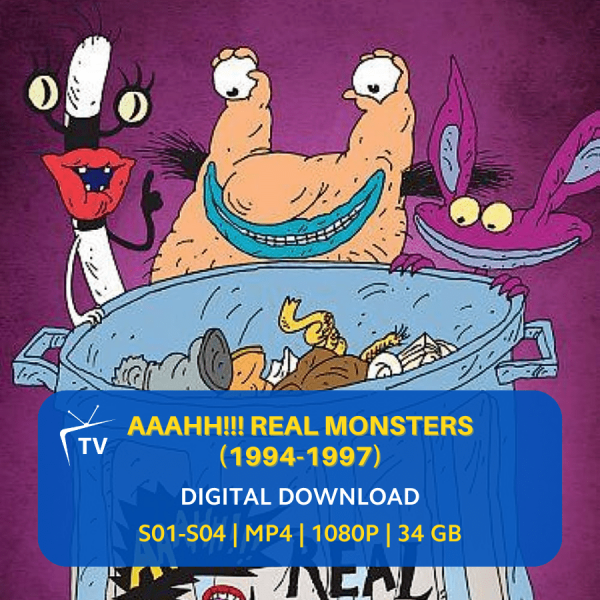 Aaahh!!! Real Monsters 1994 Classic Animation | Nickelodeon Nostalgia | Monster Academy Antics | 90s Kids Favorite | Throwback TV Series
$19.64
Category: Retro TV Shows
Tags: 1990s television, 1994 cartoon, 90s kids show, aaahh real monsters, animated monsters, beloved cartoons, childhood nostalgia, iconic 90s tv, monster academy, nickelodeon classic, nickelodeon download, throwback series, vintage tv animation
Description
TV Series Information:
• Broadcast years: 1994-1997
• Number of seasons: 4
• Number of episodes: 102
• File Quality: 1080p
• Download Size: 34.7 GB
• File format: MP4
Step back into the wacky and wonderfully monstrous world of 'Aaahh!!! Real Monsters'. Released in 1994, this iconic animated series brought to life the peculiar adventures of Ickis, Oblina, and Krumm, three monsters-in-training at the Monster Academy. Tucked away beneath a city dump, these young monsters learn the art of scaring while navigating the challenges of monsterhood and friendship. As they venture into the human world, hilarity ensues with every misadventure, giving both kids and adults an animated treat. Whether you're revisiting your childhood favorites or introducing a new generation to this classic, 'Aaahh!!! Real Monsters' promises endless laughs, unforgettable characters, and those unmistakable 90s vibes. Dive deep into the monster realm and embrace the nostalgia of a time when cartoons truly were larger-than-life.