Server Maintenance In Progress, We Will Be Back Soon! In the meanwhile if you would like to place an order via email, please feel free to message us via the website contact form or Whatsapp.
SALE!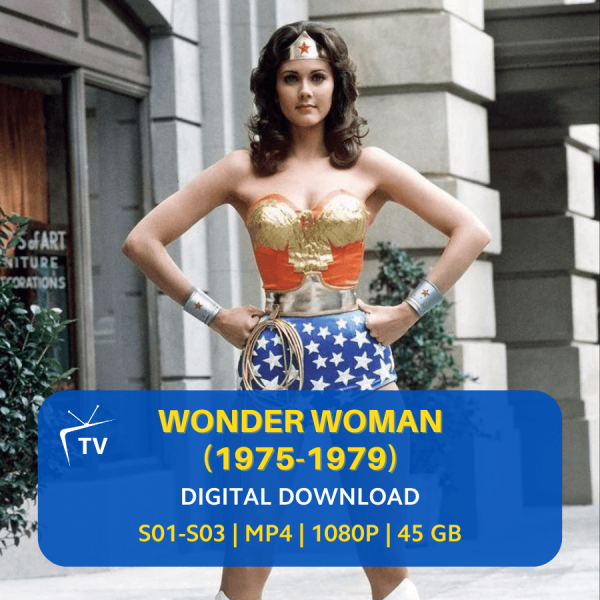 Wonder Woman 1975 TV Series | Iconic DC Superhero Show | Lynda Carter as Diana Prince | Vintage Television | Complete Digital Download
$19.64
Category: Retro TV Shows
Tags: 1970s tv hit, 70s superhero show, classic tv download, dc tv series, diana prince, digital collection, female superhero, iconic dc show, lynda carter show, powerful women tv, vintage television, wonder woman 1975, wonder woman series
Description
TV Series Information:
• Broadcast years: 1975-1979
• Number of seasons: 3
• Number of episodes: 59
• File Quality: 1080p
• Download Size: 45.9 GB
• File format: MP4
Relive the iconic era of television with the 'Wonder Woman 1975 TV Series' that introduced many fans to the empowering world of Diana Prince. Featuring the unforgettable Lynda Carter, this series became a staple in superhero lore, blending action, drama, and a message of female empowerment.
Set during World War II, watch as Diana Prince transforms into Wonder Woman, using her iconic bracelets, lasso of truth, and an unwavering sense of justice to battle villains and bring about peace. This series is not just a mere show but a testament to a time when television dared to introduce a powerful female superhero lead.
Our digital download offers you high-definition quality episodes, ensuring that every detail, from the vibrant costumes to the captivating storylines, is clear and immersive. Whether you're a longtime fan wishing to revisit this classic or a new enthusiast wanting to explore the origins of the legendary Amazonian Princess, this complete collection promises hours of entertainment.