Server Maintenance In Progress, We Will Be Back Soon! In the meanwhile if you would like to place an order via email, please feel free to message us via the website contact form or Whatsapp.
SALE!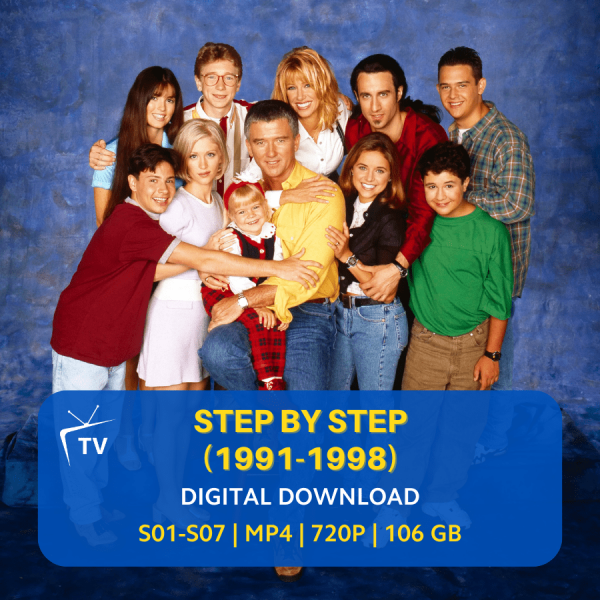 Step by Step 1991 | Classic TV Series | Lambert-Foster Family | 90s Sitcom Nostalgia | Digital Collection | Family Dynamics & Laughter
$29.64
Category: Retro TV Shows
Tags: 1990s nostalgia, 90s tv show, american sitcom, blended family show, classic tv series, comedy series, digital series, family laughs, family sitcom, iconic 90s tv, lambert-foster, step by step 1991, stepbystep download
Description
TV Series Information:
• Broadcast years: 1991-1998
• Number of seasons: 7
• Number of episodes: 160
• File Quality: 720p
• Download Size: 106.5 GB
• File format: MP4
Dive back into the 90s with the classic TV series, 'Step by Step' from 1991. Relive the comedic, touching, and always entertaining dynamics of the Lambert-Foster blended family. From their memorable entrance on the roller coaster opening to their day-to-day challenges and triumphs, the series perfectly encapsulated the spirit of the 90s family sitcoms. This digital collection ensures you don't miss out on any episode. Whether reminiscing about the feel-good TV shows from your past or discovering this gem for the first time, 'Step by Step' promises laughter, love, and a trip down memory lane. Join the family, and let's take things 'Step by Step' once more!