Server Maintenance In Progress, We Will Be Back Soon! In the meanwhile if you would like to place an order via email, please feel free to message us via the website contact form or Whatsapp.
SALE!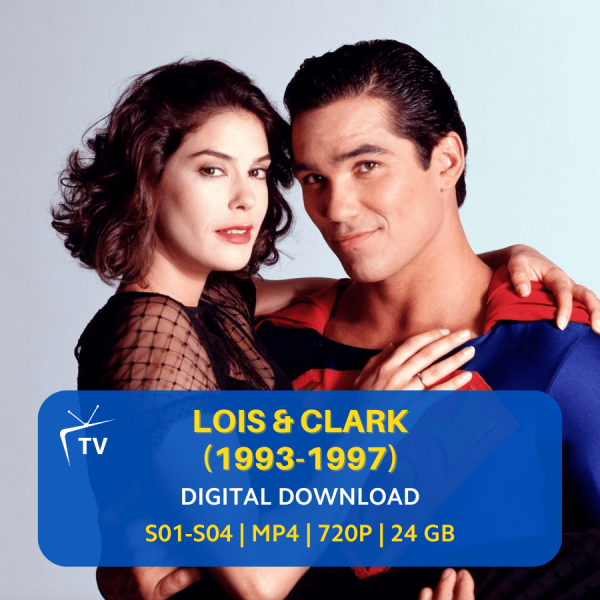 Lois & Clark New Adventures of Superman 1993 Complete Series | Dean Cain & Teri Hatcher | Nostalgic 90s TV | Digital Download
$24.96
Category: Retro TV Shows
Tags: 1993 tv show, 90s superman, adventures of superman, clark kent download, complete series, daily planet series, dean cain, iconic superman, lois and clark, nostalgic 90s tv, superhero drama, superman series, teri hatcher
Description
TV Series Information:
• Broadcast years: 1993-1997
• Number of seasons: 4
• Number of episodes: 88
• File Quality: 720p
• Download Size: 24.8 GB
• File format: MP4
Fly back into the 1990s with 'Lois & Clark: The New Adventures of Superman' – an emblematic superhero series that captured the hearts of many. Experience the dynamic between Dean Cain's Superman and Teri Hatcher's Lois Lane as they navigate both daily news at the 'Daily Planet' and the challenges of superhuman heroism.
This digital collection grants you access to every gripping episode from start to finish, all in pristine audio and visual quality. Relive the trials, tribulations, and triumphs of Superman as he battles formidable foes and cultivates an irreplaceable bond with Lois Lane.
Perfect for die-hard fans and those newly discovering the magic of this legendary series, this digital download promises hours of thrilling entertainment. Dive back into the world of the most famous superhero and the fierce reporter who stood by his side. Secure this exclusive digital collection today and soar high with Superman!