Server Maintenance In Progress, We Will Be Back Soon! In the meanwhile if you would like to place an order via email, please feel free to message us via the website contact form or Whatsapp.
SALE!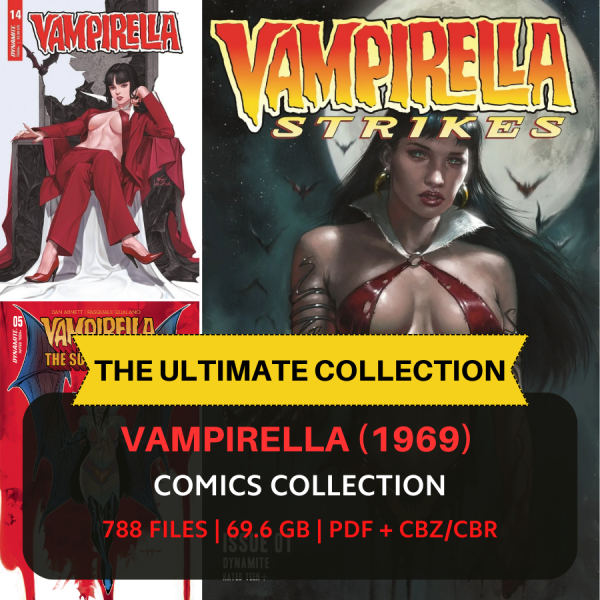 Vampirella Complete Comics Collection | Classic Horror Heroine | Vintage Gothic Tales | Digital Download
$49.60
Categories: Fantasy Comics, Horror Comics
Tags: 70s horror, cult classic, dark fantasy, digital collection, femme fatale, gothic heroine, gothic stories, horror comics, iconic comics, supernatural tales, vampire tales, vampirella comics, vintage vampirella
Description
This Digital Comics bundle contains the following files:
This Archive is available in both PDF + CBZ/CBR file format
This bundle contains the following files:
★ Vampirella Comic Books + More Collection 788 FILES
788 FILES | 69.6 GB | PDF + CBZ/CBR
Please contact us if you have any query, we are always here to assist you. We are available on WhatsApp and email.
Introduction to the Vampirella Comic:
Discover the mystical and macabre universe of the iconic femme fatale with our comprehensive collection of Vampirella Comics. Since her introduction in 1969, Vampirella has captured the imagination of readers worldwide, blurring the lines between horror, fantasy, and superhero genres with an unparalleled allure.
Our digital collection offers an immersive dive into the complex world of Vampirella, an extraterrestrial vampire from the planet Drakulon. Witness her ventures on Earth as she grapples with her own nature while battling supernatural forces that threaten the world. From her iconic costume to her enigmatic personality, Vampirella stands as one of the most captivating characters in comic book lore.
Each issue in our collection showcases richly detailed artwork that enhances Vampirella's intricate narratives, packed with thrilling action, sensual charm, and dark humor. The comics offer not just stories of fang-filled action, but also tales that explore her character and the dichotomy between her alien heritage and her adopted home.
Whether you're a long-time fan of Vampirella, a horror-fantasy enthusiast, or a comic book collector, our digital library of Vampirella Comics is a valuable addition to your collection. Immerse yourself in the dramatic, dark, and enthralling world of Vampirella and get ready for a reading experience that is nothing short of electrifying. Browse our Vampirella Comics today and let your adventure into the darkness commence.