Server Maintenance In Progress, We Will Be Back Soon! In the meanwhile if you would like to place an order via email, please feel free to message us via the website contact form or Whatsapp.
SALE!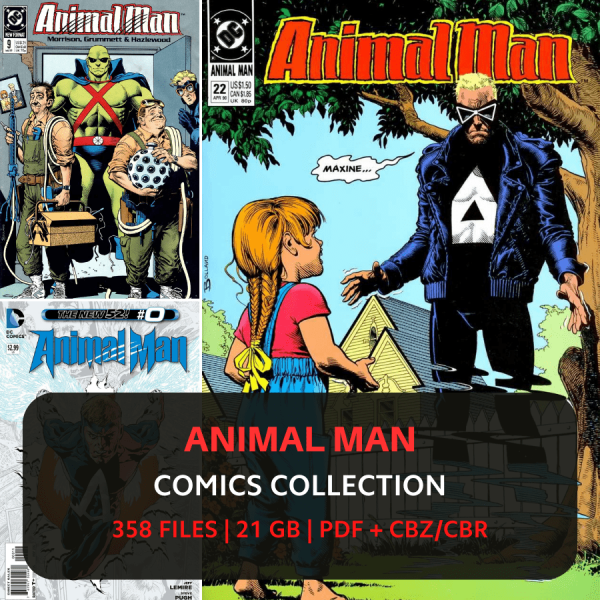 Animal Man Complete Collection | Classic Comic Series | Full Comic Archive | Digital Download | Vintage Superhero Tales | Graphic Novels Library
$18.99
Category: Superhero Comics
Tags: 20th century comics, animal man comics, classic comic series, collector's comics, comic archive, digital comic library, digital download, full collection, graphic novels, iconic comics, retro graphic tales, superhero stories, vintage superhero
Description
This Digital Comics bundle contains the following files:
★ Animal Man (1988-) 358 Files
358 FILES | 21.1 GB
Please contact us if you have any query, we are always here to assist you. We are available on WhatsApp and email.
Introduction to the Comics:
Animal Man is a superhero character in the DC Comics universe, first introduced in 1965. Created by writer Dave Wood and artist Carmine Infantino, Animal Man has the power to take on the abilities of any animal he comes into contact with, such as super strength, agility, and enhanced senses. Over the years, Animal Man has been featured in a variety of DC Comics titles, including his own self-titled series.
Animal Man's storylines often explore themes of environmentalism, animal rights, and the relationship between humanity and nature. His unique powers have also led to interesting character developments, such as his struggle to maintain his humanity while being constantly connected to the animal kingdom.
Animal Man has been a fan-favorite character for many years, and his popularity has only continued to grow with recent adaptations in other media, such as the Arrowverse's "Crisis on Infinite Earths" crossover event and the "Young Animal" imprint of DC Comics.
Whether you're a long-time fan or a newcomer to the world of Animal Man, there are plenty of exciting and thought-provoking stories to discover in his DC Comics adventures.