Server Maintenance In Progress, We Will Be Back Soon! In the meanwhile if you would like to place an order via email, please feel free to message us via the website contact form or Whatsapp.
SALE!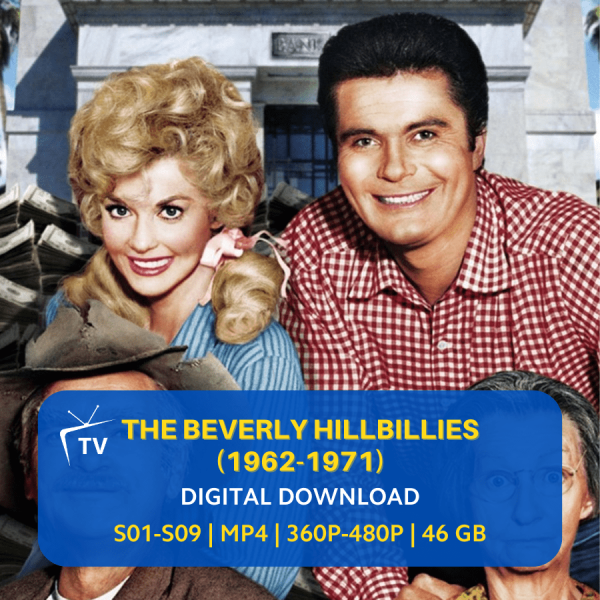 The Beverly Hillbillies 1962 | Complete TV Series Digital Download | Classic Comedy | Clampett Family | 60s Vintage Television | Iconic Show
FREE
Category: Retro TV Shows
Tags: 1962 tv series, 60s television, beverly hillbillies, clampett family, classic comedy, elly may, granny clampett, hillbilly humor, iconic 60s tv, jed clampett, jethro bodine, retro series, vintage tv show
Description
TV Series Information:
• Broadcast years: 1962-1971
• Number of seasons: 9
• Number of episodes: 274
• File Quality: 360p-480p
• Download Size: 46.4 GB
• File format: MP4
Dive into the world of 'The Beverly Hillbillies', the 1962 iconic television series that brought laughter and heartwarming moments into countless homes. Following the adventures of the Clampett family after striking oil and moving to posh Beverly Hills, this classic comedy juxtaposes the simple, homespun wisdom of the country with the complex, often superficial lifestyle of the city.
Watch as Jed Clampett, the kind-hearted patriarch, tries to navigate the upscale world, with the help of his mother-in-law Granny, his beautiful daughter Elly May, and the ever-naive Jethro Bodine. Their humorous attempts to fit into a culture so different from their own creates an array of comedic situations that remain timeless.
Our premium digital download ensures that you experience every episode with crisp quality and clarity. Whether you're revisiting this gem from the past or introducing it to a new audience, 'The Beverly Hillbillies' guarantees endless entertainment. Immerse yourself in the delightful escapades of the Clampetts and celebrate one of the most cherished TV shows of the 60s!