Server Maintenance In Progress, We Will Be Back Soon! In the meanwhile if you would like to place an order via email, please feel free to message us via the website contact form or Whatsapp.
SALE!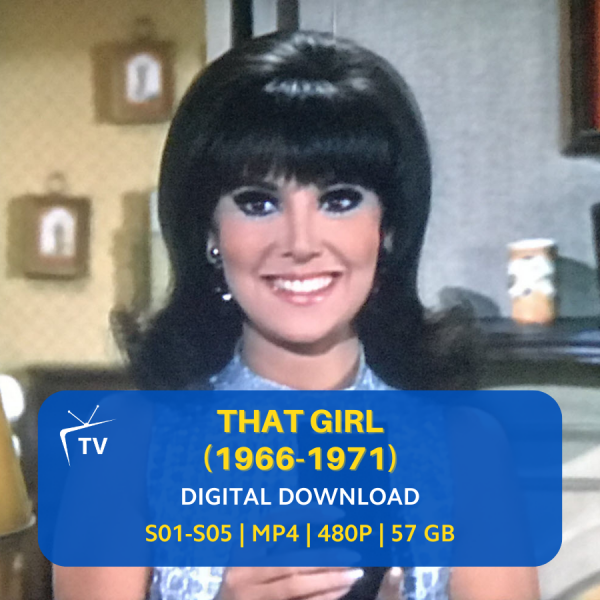 That Girl 1966 Classic Series | Marlo Thomas Iconic Role | 60s Female-Led Comedy | Vintage Television | New York TV Nostalgia
$24.96
Category: Retro TV Shows
Tags: 1960s comedy, classic 60s tv, female protagonist, iconic television, independent woman, marlo thomas show, new york sitcom, nostalgic television, old school series, retro tv series, that girl 1966, tv series download, vintage female lead
Description
TV Series Information:
• Broadcast years: 1966-1971
• Number of seasons: 5
• Number of episodes: 136
• File Quality: 480p
• Download Size: 57.8 GB
• File format: MP4
Dive into the enchanting world of 'That Girl', a defining television series from 1966 that set the stage for female-driven comedies. Marlo Thomas brilliantly steps into the shoes of Ann Marie, a young, aspiring actress navigating life in New York City with grace, wit, and a touch of naivety. Each episode unfolds a new chapter in her journey towards stardom, underscored by the trials, triumphs, and the comical situations she finds herself in. Amid the bustling avenues of Manhattan and the world of theater, 'That Girl' stands as a testament to the dreams, ambitions, and the delightful chaos that life often brings. With this digital download, reacquaint yourself with Ann's world, her endearing optimism, and the iconic scenes that made 'That Girl' a cherished gem of 1960s television.