Server Maintenance In Progress, We Will Be Back Soon! In the meanwhile if you would like to place an order via email, please feel free to message us via the website contact form or Whatsapp.
SALE!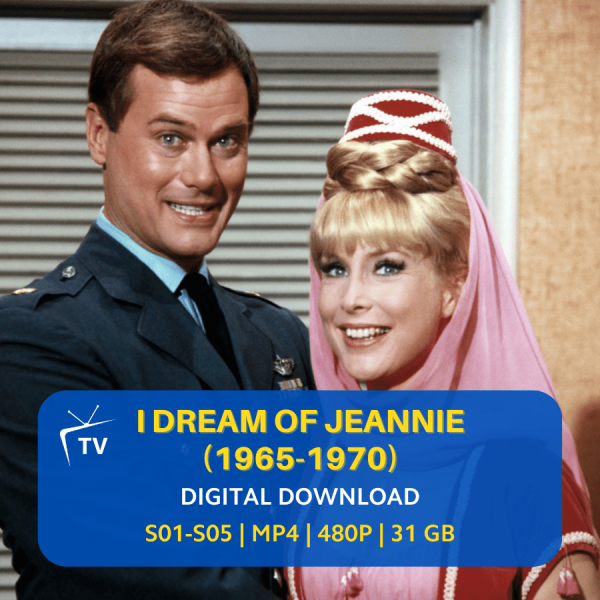 I Dream of Jeannie 1965 | Full Series Digital Download | Barbara Eden Classic | 60s Fantasy Comedy | Iconic TV Show | Vintage Series
$24.96
Category: Retro TV Shows
Tags: 1965 tv classic, 60s fantasy tv, barbara eden, comedy series, genie tv show, i dream of jeannie, iconic 60s show, jeannie download, larry hagman, magic sitcom, nostalgic tv, television classic, vintage television
Description
TV Series Information:
• Broadcast years: 1965-1970
• Number of seasons: 5
• Number of episodes: 139
• File Quality: 480p
• Download Size: 31 GB
• File format: MP4
Revisit the magical world of 'I Dream of Jeannie', the enchanting TV series from 1965 that transported audiences into a realm of fantasy, humor, and timeless romance. Starring the incomparable Barbara Eden as Jeannie and Larry Hagman as Major Tony Nelson, this iconic show continues to delight generations with its whimsical storytelling and memorable characters.
Embark on a journey of wishes and comedic escapades as Major Nelson discovers a mysterious bottle on a deserted island, unleashing Jeannie, a 2,000-year-old genie. Their intertwined destinies create a series packed with laughter, heart, and the occasional magical mishap.
Now, you can relive every enchanting moment with our top-quality digital download. Whether you're recapturing the magic of your youth or introducing the series to a new generation, 'I Dream of Jeannie' promises hours of entertainment. Add this beloved 60s TV series to your collection and let the magic begin!