Server Maintenance In Progress, We Will Be Back Soon! In the meanwhile if you would like to place an order via email, please feel free to message us via the website contact form or Whatsapp.
SALE!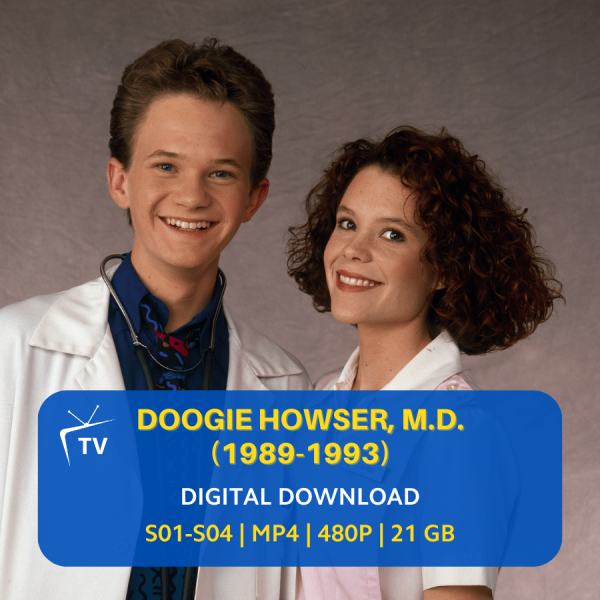 Doogie Howser, M.D. 1989 | Complete Series Digital Download | Neil Patrick Harris | Iconic 80s Medical Drama | TV Show Classic
$24.96
Category: Retro TV Shows
Tags: 1989 tv series, 80s medical drama, classic tv series, complete series, doogie howser download, doogie md, hospital drama, iconic 80s show, medical tv series, neil patrick harris, nph classic, teenage doctor show, vintage television
Description
TV Series Information:
• Broadcast years: 1989-1993
• Number of seasons: 4
• Number of episodes: 97
• File Quality: 480p
• Download Size: 21 GB
• File format: MP4
Dive into the fascinating world of a teenage prodigy with 'Doogie Howser, M.D.', an emblematic TV series from 1989 that has since become a cherished classic. Starring the talented Neil Patrick Harris in one of his most iconic roles, this series brilliantly blends the challenges of early adulthood with the demanding life of a young doctor.
Witness the trials, tribulations, and triumphs of Douglas "Doogie" Howser, a teenage physician juggling the professional challenges of the medical world and the personal struggles of adolescence. The series' blend of humor, drama, and heart makes it a timeless gem, resonating with audiences of all ages.
Whether you're a longtime fan wanting to relive Doogie's journey or a newcomer eager to explore this unique medical drama, our digital download ensures a top-notch viewing experience. Add this classic 80s TV series to your collection today and indulge in the remarkable world of Doogie Howser, M.D.