Server Maintenance In Progress, We Will Be Back Soon! In the meanwhile if you would like to place an order via email, please feel free to message us via the website contact form or Whatsapp.
SALE!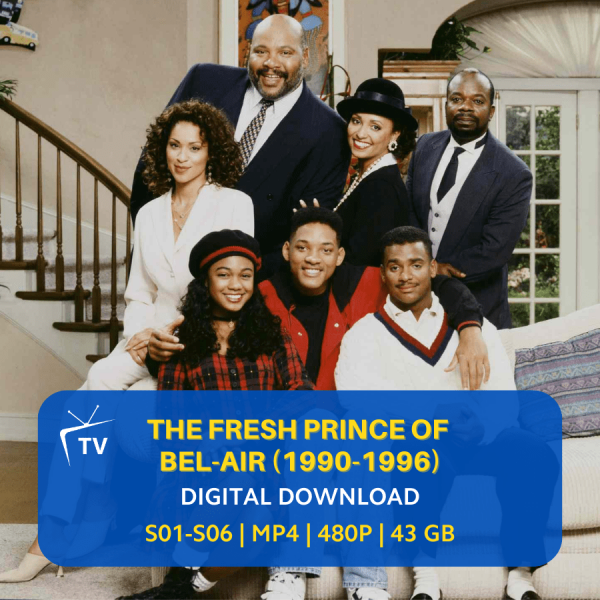 The Fresh Prince of Bel-Air 1990 | Iconic Show | Digital TV Series Collection | Will Smith Classic | Sitcom Legend
$19.64
Category: Retro TV Shows
Tags: 1990s tv show, 90s television, bel-air adventure, bel-air series, comedic drama, digital tv series, family sitcom, fresh prince download, fresh prince episodes, iconic sitcom, philadelphia to bel-air, retro tv show, will smith classic
Description
TV Series Information:
• Broadcast years: (1990-1996)
• Number of seasons: 6
• Number of episodes: 148
• File Quality: 480p
• Download Size: 43.1 GB
• File format: MP4
Step into the luxurious world of Bel-Air and relive the comedic brilliance of 'The Fresh Prince of Bel-Air'. This iconic 1990s sitcom, led by the charismatic Will Smith, has kept audiences laughing and reminiscing for decades. As a story of a young man from Philadelphia adjusting to the lavish lifestyle of his Bel-Air relatives, the series expertly combines humor, drama, and heartwarming moments. This digital collection provides instant access to the entire journey of Will and the Banks family, making it a must-have for both fans of the show and those new to its charm. Whether you're looking to recapture the nostalgia or enjoy a timeless classic, 'The Fresh Prince of Bel-Air' is your ticket to non-stop entertainment.