Server Maintenance In Progress, We Will Be Back Soon! In the meanwhile if you would like to place an order via email, please feel free to message us via the website contact form or Whatsapp.
SALE!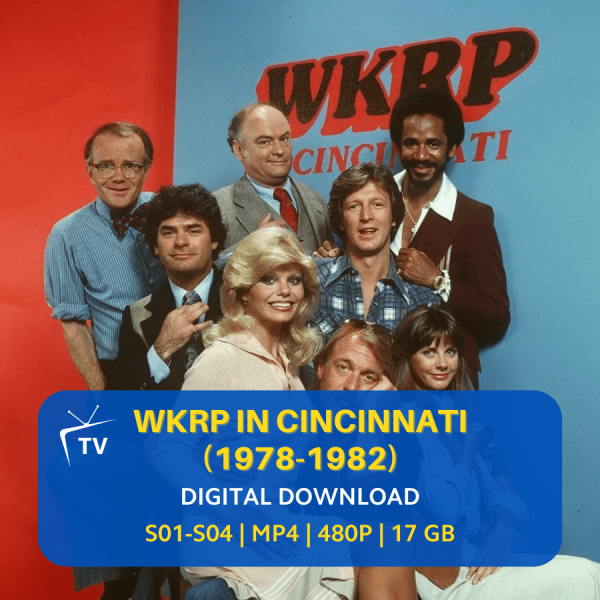 WKRP in Cincinnati 1978 | Complete TV Series Digital Download | Classic Sitcom | Radio Station Comedy | 70s TV Hit | Vintage Show
$9.99
Category: Retro TV Shows
Tags: 1970s hit show, 1978 tv series, 70s television, american tv series, cincinnati classic, classic sitcom, dj drama, iconic sitcom, radio comedy, radio station show, vintage comedy, wkrp download, wkrp in cincinnati
Description
TV Series Information:
• Broadcast years: 1978-1982
• Number of seasons: 4
• Number of episodes: 90
• File Quality: 480p
• Download Size: 17.5 GB
• File format: MP4
Dive into the world of radio with 'WKRP in Cincinnati', the iconic 1978 TV series that combined humor, music, and a slice of the 70s life. Set in the heart of Cincinnati, the series follows the comedic antics of the WKRP radio station staff, from the bumbling station manager to the quirky on-air personalities.
From the unforgettable turkey drop episode to the show's catchy theme song, every moment of this series is a trip down memory lane. 'WKRP in Cincinnati' not only offers a delightful representation of a bygone era in American broadcasting but also delivers consistent laughs with its unique blend of characters and situational comedy.
Now, with our high-quality digital download, you can have every episode of this classic sitcom at your fingertips. Relive the hilarious ups and downs of radio life, and immerse yourself in the world of 'WKRP in Cincinnati'. A treat for both old fans and new discoverers, this series stands as a testament to the golden age of television.