Server Maintenance In Progress, We Will Be Back Soon! In the meanwhile if you would like to place an order via email, please feel free to message us via the website contact form or Whatsapp.
SALE!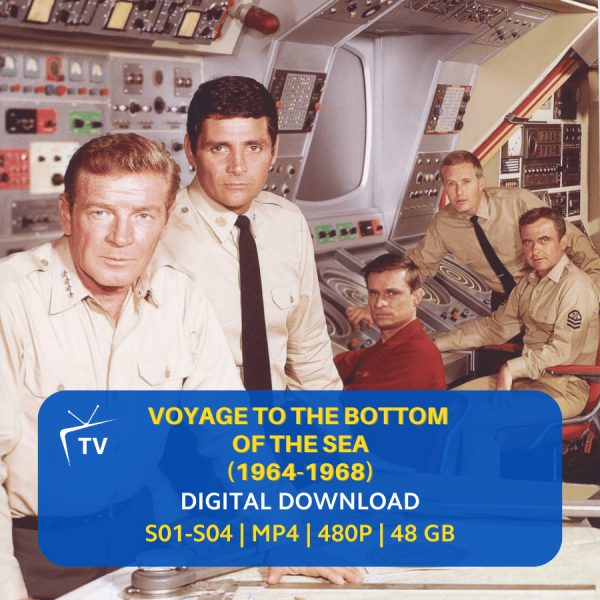 Voyage to the Bottom of the Sea 1964 Classic TV Series | Submarine Adventure Show | Vintage TV Drama | Iconic Television | Sci-Fi Series Download
$19.64
Category: Retro TV Shows
Tags: 1960s digital show, 60s television, classic tv download, cult classic tv, deep-sea adventure, iconic tv series, irwin allen series, retro tv drama, sea exploration show, submarine drama, undersea adventure, vintage sci-fi show, voyage 1964 series
Description
TV Series Information:
• Broadcast years: (1964-1968)
• Number of seasons: 4
• Number of episodes: 110
• File Quality: 480p
• Download Size: 48.3 GB
• File format: MP4
Revisit the enthralling depths of the ocean with the iconic 'Voyage to the Bottom of the Sea' – a television series that gripped viewers with its riveting undersea adventures. A true masterpiece of the 1960s, this series delivered a seamless blend of drama, science fiction, and excitement, taking fans on a captivating journey aboard the technologically advanced submarine, Seaview. Each episode unfolds a new chapter of deep-sea discoveries, unknown territories, and pulse-pounding predicaments. This classic series is not just a show; it's a nostalgic trip to a time when television brought imaginative tales to life. Perfect for both longtime enthusiasts and a new generation seeking vintage TV gems, 'Voyage to the Bottom of the Sea' offers an unparalleled deep-sea expedition from the comfort of your space.