Server Maintenance In Progress, We Will Be Back Soon! In the meanwhile if you would like to place an order via email, please feel free to message us via the website contact form or Whatsapp.
SALE!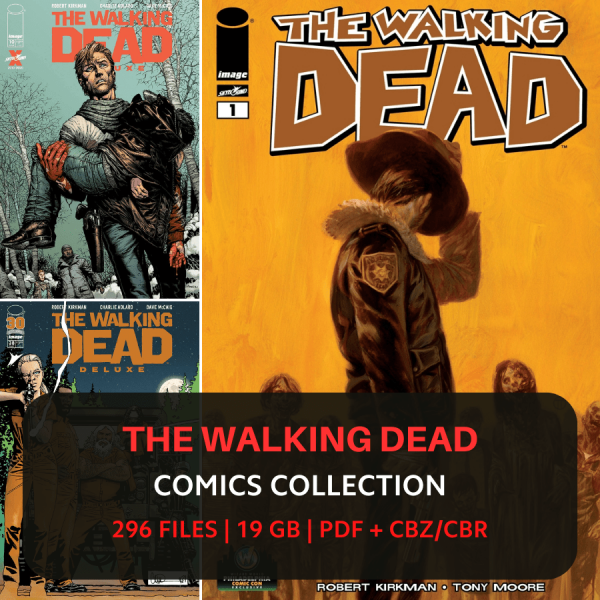 The Walking Dead Complete Comics | Zombie Apocalypse Saga | Rick Grimes' Journey | Digital Download Series
Description
This Digital Comics bundle contains the following files:
This Archive is available in both PDF + CBZ/CBR file format
★ The Walking Dead 296 Files
296 FILES | 19.7 GB | PDF + CBR/CBZ
Please contact us if you have any query, we are always here to assist you. We are available on WhatsApp and email.
Introduction to the Comic:
The Walking Dead is a long-running comic book series created by writer Robert Kirkman and artist Tony Moore. The series follows the story of Rick Grimes, a small-town police officer who wakes up from a coma to find that the world has been overrun by zombies, known in the series as walkers. As Rick tries to find his family and adjust to the new world, he must also confront the harsh realities of survival in a post-apocalyptic landscape.
Throughout the series, Rick and his group of survivors face a variety of challenges, including rival factions, hostile environments, and the constant threat of the undead. The story is characterized by its exploration of complex moral dilemmas, as well as its portrayal of the psychological toll of living in a world where death is always just around the corner.
The Walking Dead has been praised for its gripping storytelling, nuanced characters, and impressive artwork. It has also spawned numerous adaptations, including a highly successful television series on AMC, as well as video games, novels, and other media.
The comic book series concluded in 2019 after 193 issues, with an epilogue issue released in 2020. The series has left a lasting impact on the comics industry and popular culture as a whole, cementing its place as one of the defining works of the zombie genre.