Server Maintenance In Progress, We Will Be Back Soon! In the meanwhile if you would like to place an order via email, please feel free to message us via the website contact form or Whatsapp.
SALE!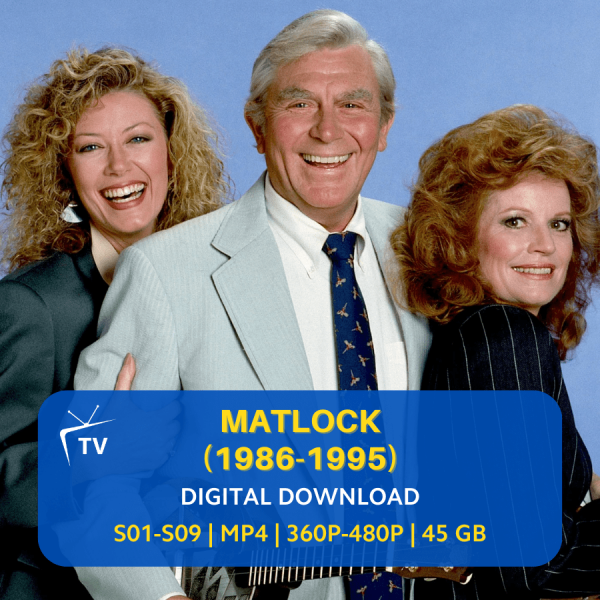 Matlock 1986 | Classic Crime Drama | Andy Griffith Performance | Legal Series | Iconic Television | Courtroom Adventures
FREE
Category: Retro TV Shows
Tags: 1980s tv hit, andy griffith, ben matlock show, classic crime drama, courtroom tales, defense lawyer drama, griffith series, iconic lawyer show, legal series, matlock 1986 download, mystery and law, retro tv series, southern attorney
Description
TV Series Information:
• Broadcast years: (1986-1995)
• Number of seasons: 9
• Number of episodes: 193
• File Quality: 360p-480p
• Download Size: 45.7 GB
• File format: MP4
Delve into the captivating universe of 'Matlock' from 1986, a mesmerizing crime drama that remains one of television's finest. Starring the unparalleled Andy Griffith as Ben Matlock, this series is an exquisite blend of legal prowess and mystery-solving, taking viewers on a rollercoaster ride of emotions and twists. Ben Matlock, an expensive yet efficient defense attorney, never gives up until he unravels the truth, proving his client's innocence. From the deep south's melodious tones to the high-tension courtroom confrontations, 'Matlock' is an emblematic series that showcases the best of legal drama. Its episodes not only revolve around crimes but also delve deep into human psyche, values, and beliefs. It's not merely a show; it's an exploration of ethics, justice, and the indomitable human spirit.