Server Maintenance In Progress, We Will Be Back Soon! In the meanwhile if you would like to place an order via email, please feel free to message us via the website contact form or Whatsapp.
SALE!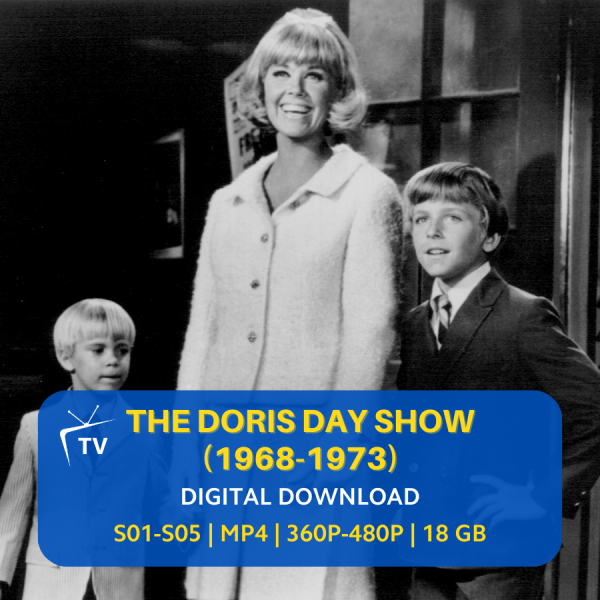 The Doris Day Show 1968 | Vintage TV Series | Classic 60s Sitcom | Iconic Television | Doris Day Magic | Golden Era TV
$9.99
Category: Retro TV Shows
Tags: 1960s television, 60s tv show, classic television, doris day 1968, doris day classic, doris day magic, doris day series, golden era tv, iconic 60s show, nostalgic tv, retro tv download, the doris day show, vintage sitcom
Description
TV Series Information:
• Broadcast years: 1968-1973
• Number of seasons: 5
• Number of episodes: 128
• File Quality: 360p-480p
• Download Size: 18 GB
• File format: MP4
Step back into the charming world of 'The Doris Day Show', an iconic 1968 sitcom that celebrates the many facets of Doris Day's incredible talent. Set against the backdrop of the vibrant 1960s, this show is a delightful blend of humor, heart, and timeless entertainment. Doris Day, with her effervescent personality and unparalleled charm, brought life to every episode, making it a cherished staple of classic television. Whether you're reliving cherished memories or discovering the magic of Doris Day for the first time, 'The Doris Day Show' offers a heartwarming escape to the golden era of TV. Experience the charisma and talent of a legendary artist with this incredible series.