Server Maintenance In Progress, We Will Be Back Soon! In the meanwhile if you would like to place an order via email, please feel free to message us via the website contact form or Whatsapp.
SALE!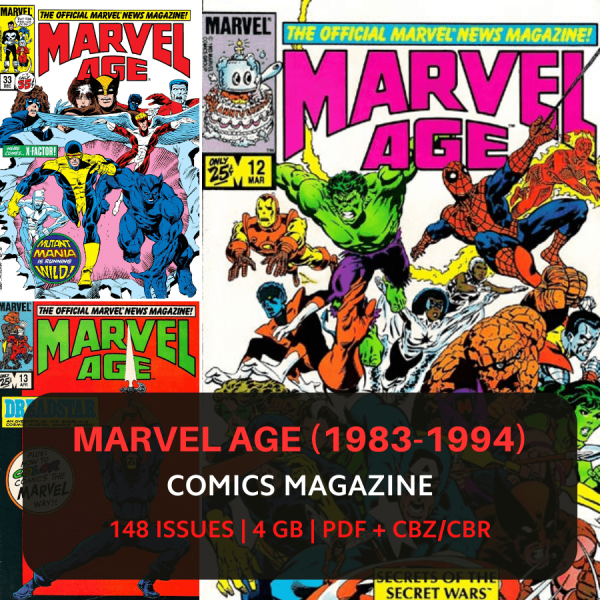 Marvel Age Magazine | Iconic Comic Insights | Vintage Superhero Updates | Full Collection | Digital Download Edition
Description
This Digital Comics bundle contains the following files:
★ Marvel Age Comic Magazine 148 Issues
148 ISSUES | 4.59 GB
Please contact us if you have any query, we are always here to assist you. We are available on WhatsApp and email.
Introduction to the Comic Magazine:
Marvel Age was a monthly comic magazine published by Marvel Comics from 1983 to 1994. The magazine was aimed at younger readers and served as an introduction to the Marvel Universe, featuring articles, interviews, and previews of upcoming comics. The magazine also included reprints of classic Marvel stories, as well as new stories featuring popular characters such as Spider-Man, the X-Men, and the Fantastic Four.
One of the unique features of Marvel Age was the inclusion of behind-the-scenes information about the making of comics, including interviews with writers and artists, and insights into the creative process. This gave readers a glimpse into the inner workings of the comic industry and helped to foster a deeper appreciation for the art form.
In addition to its educational and entertainment value, Marvel Age was also a valuable collectible for fans of Marvel Comics. Many issues featured covers by popular artists, and some issues included special inserts or posters. The magazine also provided a valuable source of information for collectors, with features on rare and valuable comics and tips on collecting.
Overall, Marvel Age was an important publication in the history of Marvel Comics, providing a gateway for new readers and offering a behind-the-scenes look at the industry. It remains a beloved and sought-after collectible for fans of all ages.