Server Maintenance In Progress, We Will Be Back Soon! In the meanwhile if you would like to place an order via email, please feel free to message us via the website contact form or Whatsapp.
SALE!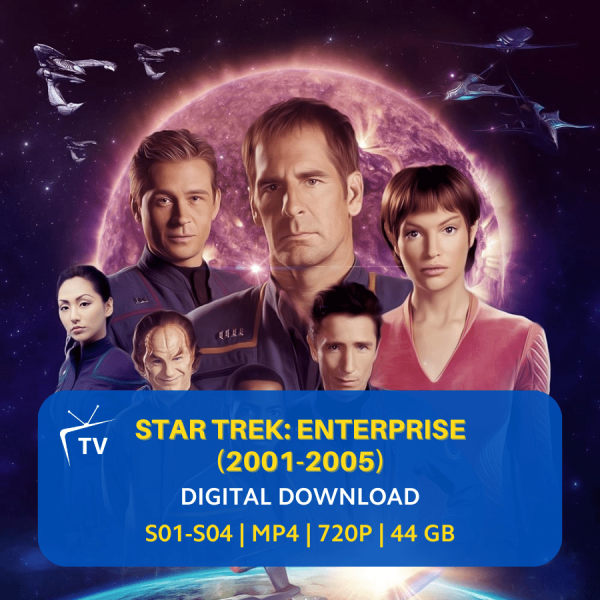 Star Trek: Enterprise 2001 | Intergalactic Odyssey | Captain Archer Era | TV Series Digital Edition | Space Exploration | USS Enterprise Saga
$24.96
Category: Retro TV Shows
Tags: 2000s sci-fi show, alien encounters, captain archer, deep space saga, enterprise series, federation beginnings, iconic star trek, interstellar drama, prequel series, space odyssey, star trek 2001, trekker collectible, uss enterprise
Description
TV Series Information:
• Broadcast years: 2001-2005
• Number of seasons: 4
• Number of episodes: 98
• File Quality: 720p
• Download Size: 44.8 GB
• File format: MP4
Embark on an intergalactic voyage with 'Star Trek: Enterprise' from 2001. Set a century before the iconic Captain Kirk took the helm, this series sheds light on the early days of space exploration and the maiden voyages of the USS Enterprise. Led by Captain Jonathan Archer, the crew faces unfamiliar species, navigates uncharted territories, and lays the foundation for the Federation. This digital collection allows you to experience the intrigue, challenges, and camaraderie of a ship determined to chart the stars. Whether you're a lifelong Trekker or a new fan, 'Star Trek: Enterprise' is a must-have to understand the roots of this storied universe. Step aboard and venture into the unknown!